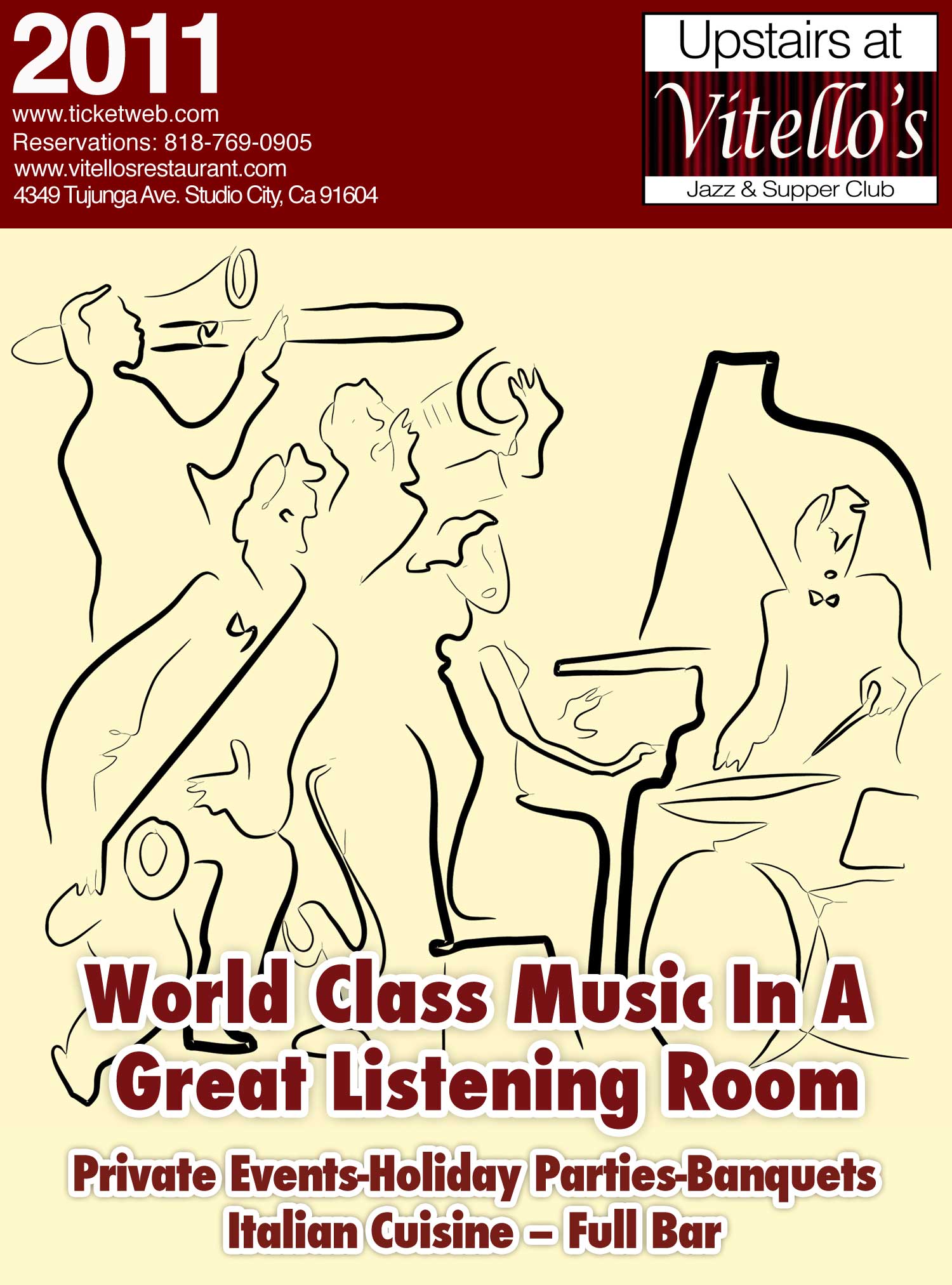 The Upstairs at Vitello's Jazz and Supper Club has rapidly become known as one of "LA's best listening rooms".The supper club is reminiscent of the hip jazz clubs of the 1960's and 1970's like Dontes and Shelly's Mannhole. Enjoy Live Jazz, Upstairs at Vitello's in Studio City. These shows feature Grammy Award-winning and world class recording artists, specializing in all types of Jazz, Latin, Blues, and Fusion music and education too!
In Memoriam: "Dank" Sir John Dankworth, the prolific British sax & clarinet player, band leader, educator and composer of film scores, died on Feb. 6, age 82, after a long illness. He was knighted by Queen Elizabeth in 2006—the first British jazz musician to receive this honor. I met Dankworth 35 years ago, through an introduction from critic Leonard Feather, when I lived in London. The meeting place was Ronnie Scott's jazz club in Soho and his wife— talented, beautiful singer Cleo Laine—was with him. I was searching for the soundtrack of "The Servant", a smart, dark film Dankworth scored in 1963. The composer was cordial and informative but sadly admitted even he didn't have a copy of the soundtrack.
After the chat at my table, Dankworth bounded to the stage and blitzed the room with some British be-bop. I mention him for two reasons. First, this nice quote: "classical symphonies are the great novels of western music and jazz is the journalism". The other bit is a story I heard on a British TV show the same week I met Dankworth. A violinist described a recording session during which he noticed several bars of incorrectly transcribed notes on his score. He brought it to Dankworth's attention and was astonished to see the composer lean over and correct the lines of music UPSIDE DOWN.
"I knew Johnny was smart", said the musician, "but that was bloody genius!"
Speaking of studio musicians…here's a secret note to all of you who head Upstairs at Vitellos this month. As you know, April Williams is the founder, producer, booker and creative head of the Red Carpet Jazz Series—and more—at Vitellos. Since April is the month they named after Ms. Williams, I'm hoping every musician who walks by her for the next 30 days will quietly whistle, hum or sing "I'll Remember April"—just to see if she's paying attention. Then thank her for all the hard work she does keeping Vitellos filled with jazz almost every night. (I don't think there's a song called "I'll Remember Tabitha", but when SHE seats you or sells you a CD, you'll want to whistle at her, too!)
Hours of Operation
Lunch Hours
Monday - Friday: 11:30 - 3:00
Saturday & Sunday: 11:30 - 4:00
Dinner Hours
Monday - Thursday: 5:00 - 10:00
Friday: 5:00 - 11:00
Saturday: 4:00 - 11:00
Sunday: 4:00 - 10:00
For Live Music Reservations: Upstairs at Vitello's Call: (818) 769-0905 ask to be seated "Upstairs at Vitello's" (Cover charges and drink minimums apply)
Make an Online Dinner Reservation or Call: (818) 769-0905 (Last seating is one half hour before closing)