STAR PR
Near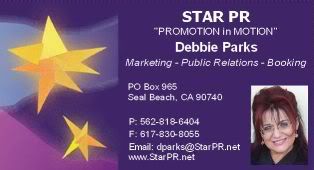 Star PR specializes in promotion, publicity, marketing and booking for recording artists, promoters and record companies through web marketing, press release distribution, social networking, identity branding and website development.
We feature a "Breaking New Artist" program that will help you take your career to the next level by coordinating press, radio promotion and publicity. We will shop your music to labels, agents and producers.
We also offer our diverse selection of clients to you for booking special events, weddings, nightclubs and corporate events.
Radio
published: September 15, 2009
Links